♪♫•¨•.¸¸♥ ¸¸.•¨•♫♪ ♥ ♥ ♥ ♪♫•¨•.¸¸♥ ¸¸.•¨•♫♪
Aloha kakou e komo mai. I live on the beautiful tropical island of ihikapalaumaewa, more commonly known as Maui Hawai'i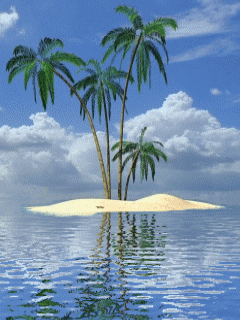 Paradise on Earth
E hana me ka ha`aha`a
i aloha `ia nö ia home
Ia home luakaha a ka malihini
Beloved is this home
This home so delightful to visitors
E aloha ae ana nö au
I ka makani kaulana o ka `âina
A`u e ho`oheno nei
Ka makani kâ`ili aloha
I love the famous wind of this land
Mine to cherish
The wind named Love
excerpts from The Kipahulu Zephyr – by Matthew Kane
Source: King's Blue Book, Copyright 1916
"
In the silence, I turn to you.
My inner heart, my inner mind knows the truth
I am whole, complete in every way
I am love, greeting all I meet with open arms
I am silence, rich with simplicity
In the silence, I remember these words:
Let all who come to me feel my spirit touching their soul
I Am Who I Am
I am the light of peace.
I am the breath of Spirit.
I am the strength of a thousand horses.
I am the courage of a new day.
I am the love of a child.
I am who I am."
~
Journey with Spirit
Sharon Mau's Daily Om Profile
View my video, listen to some of my favourite music here on Ourjrny's YouTube channel and leave a comment, I love feedback
The following link is for my new profile on
My portfolios are a work in progress, so please check back soon for updates as I prepare to publish my work.
"Love is a portion of the soul itself, and it is of the same nature as the celestial breathing of the atmosphere of paradise."
~
Victor Hugo
~
Photographer, Artist, Journalist, Traveler, Wife, Mother, Teacher, Student, Sister, Daughter, Lover, Healer, Friend
...
My Portfolios are a work in progress; please check back often for updates
"Your life and my life flow into each other as wave flows into wave, and unless there is peace and joy and freedom for you, there can be no real peace or joy or freedom for me. To see reality:—Not as we expect it to be, but as it is. It is to see that unless we live for each other, and in, and through each other, we do not really live very satisfactorily. There can really be life, only where there really is. In just this sense, love." by Frederick Buechner
My Fine Art America Gallery